I'm a huge car guy. By that, I mean I love cars, not that I can work on them. I just learned to change my own oil last year. I have yet to do it on my own, but I digress. I am also a big VW guy. I don't currently own one, but I've owned them in the past. I was checking out Autoblog and VW Vortex this morning and came across the GTI W12 650. If you know anything about VW, you know the W12 is one big ass engine, and yes, the number trailing that is the number of horsepower packed into this tiny little ride.
This is no ordinary Golf/GTI. This beast of a vehicle has the rear seat removed in favor of the 12 cylinder monster that powers this concept car. A 650hp turbo-charge engine capable of 202mph with 553 lb-ft. of torque. For comparison, the 2007 Corvette has 505hp w/ 470 lb-ft of torque. The GTI W12-650 even does 0-62 in 3.7 seconds which clearly bests the 4.3 seconds of the upcoming 2008 Corvette. That's right, this tiny little hatchback should be able to safely smoke a Corvette.
Don't be fooled by the name though as this is no ordinary looking GTI. The aggressive rear end has quad exhaust with a nice cutout mesh insert. The side panels of the car sport some crazy cutouts as well and even the carbon fiber hood has a purpose.
This GTI moved the wing inward. The roof is part of an enormous diffuser, which provides sufficient down force on the rear axle. It is made of carbon fiber and forces air over and under the tail spoiler to obtain a perfect amount of pressure on the rear axle.
In a nutshell, VW created a rocket on wheels. For more information, head on over to VW Vortex and read the full press release from V-Dub. Pics below: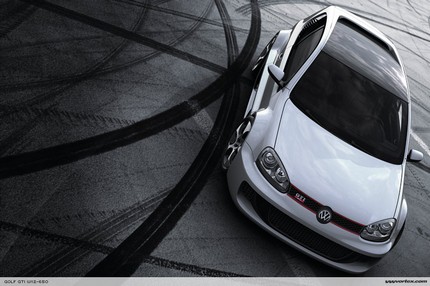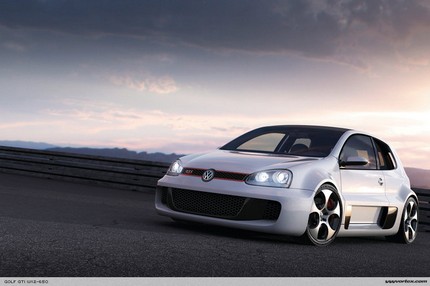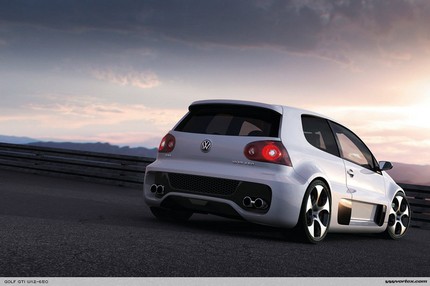 31 May 2007 02:21 pm Chris 0 comments