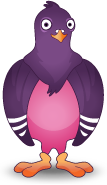 There is no denying the speed or convenience of using instant messaging for communication. Phone calls are good, email is better, and IM is the best. Since about 2006 I've been using Trillian for my IM needs. Trillian uses an XML based client side file to store your buddies and their aliases. The lack of a solid server side buddy sync has driven me away from the popular IM client. Well, that and the fact that it's become a piece of bloatware only rivaled by Firefox in terms of its sluggish response.
Previously known as Gaim, Pidgin is an open source alternative that has really come into it's own. With a GTK+ based UI, Pidgin can take any of the existing GTK+ application themes out there and use them natively. It's lightweight, responsive, and works very well and though it took me over an hour to recreate my Trillian buddy list complete with aliases, my buddies are now stored on their respective server's so if I have the need to use Meebo as my web based IM client, I have access to my up to date buddy list.
I haven't been happier.
19 Mar 2008 11:16 am Chris 0 comments