Kids, Life in General, Reviews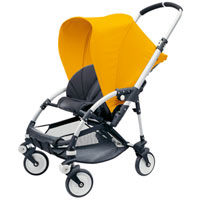 Name: Bee
Manufacturer: Bugaboo
MSRP: $529
Now that I've gotten over the initial giddy feeling of this purchase, I am at a point where I can legitimately tell you about it. The Bee is the newest member of the Bugaboo family of products. It's aimed at parents that live in the city and have reason to fold it up and toss it into a taxi or take it on the subway. For that reason, it's designed to be stylish, but also very lightweight and compact.
The Bee features very solid but lightweight construction with it's aluminum frame. The Bee also comes equipped with 4 wheel independent suspension. What that means is that each wheel is independently spring loaded to provide a very smooth ride for your child. The wheels are also very sturdy and foam filled. They seem to allow the stroller to just glide smoothly across any surface. Even a quick stroller around the block is a smooth as can be.
The Bee also features an adjustable handle bar so it can comfortably be used by parents of all size. This was one of the major drawbacks to most strollers with fixed handles.
Another great feature is the ability to have your child face the world or face you. With a few simple steps you can flip the lightweight seat around. One drawback was that with the seat facing you, the stroller didn't seem to fold up as well. It is recommended to return the seat to forward facing before folding.
Folding up the stroller is as easy as pulling 2 slide locks on the frame. No tricky locks are necessary to keep the stroller folded up. It simply holds it's position. To unfold, simply place your foot on the brake pedal and push and it pops right up.
The brake is in the center of the back of the stroller and is very easy to engage and unlock with the flip of your foot.
The Bee also packs ample storage space beneath the seat, especially in rear facing position.
In all, the Bee is a fabulous stroller that isn't packed full of complicated features. It has a simple design that works well and is simple to use. It's light and sturdy and the seat cover is machine washable for easy cleaning. The price tag is hard to swallow for many people, but if you are planning on having multiple kids then the cost of purchasing a new stroller for subsequent kids it isn't all that bad. The Bee also has an adapter for holding Graco car seats for $50.
I highly recommend anyone considering a new stroller take a look at the Bee. It is available at Neiman Marcus and at many online retailers.
30 Jun 2008 11:44 am Chris 2 comments